I am in love with this Gingerbread recipe 🤍🤎
I usually make healthier things, and I wouldn't call this cake 'healthy' by any means. But to me, it's the ultimate Christmas treat, and I'm sure I'm not the only one who breaks my healthy eating rules around Christmas time (although I do try).
This gooey Gingerbread Cake is vegan too … it's an adapted version of the legendary Nigella Lawson's Luscious Vegan Gingerbread recipe.
Her lovely recipe calls for prunes, but I used dates instead (14 to be exact) … as you would for a sticky toffee pudding. I also added in a bit more cinnamon and ground ginger and I left out the fresh ginger this time – although I do think this would be a nice addition.
If you love Gingerbread, I do recommend this recipe. It's sticky, so indulgent and just soo good! I can't wait to make it again next year!
Now here's my take on the ingredients for this adapted recipe.
INGREDIENTS
150 millilitres vegetable oil
200 grams golden syrup
200 grams black treacle
125 grams dark muscovado sugar
14 dates – finely chopped and  soaked in water for ~20 minutes
1  tablespoon ground cinnamon
1 tablespoon ground ginger
1 teaspoon ground allspice
⅛ teaspoon ground cloves
¼ teaspoon ready-ground black pepper
¼ teaspoon fine sea salt
250 millilitres oat milk
300 grams sifted plain flour
1 teaspoon bicarbonate of soda (baking soda)
2 x 15ml tablespoons warm water
2 teaspoons regular cider vinegar
INSTRUCTIONS
For the instructions, check out Nigella's full recipe here and just use the dates soaked in water instead of the prunes and a touch more cinnamon and ground ginger. If you're looking for the ingredients in cups, she also lists those too.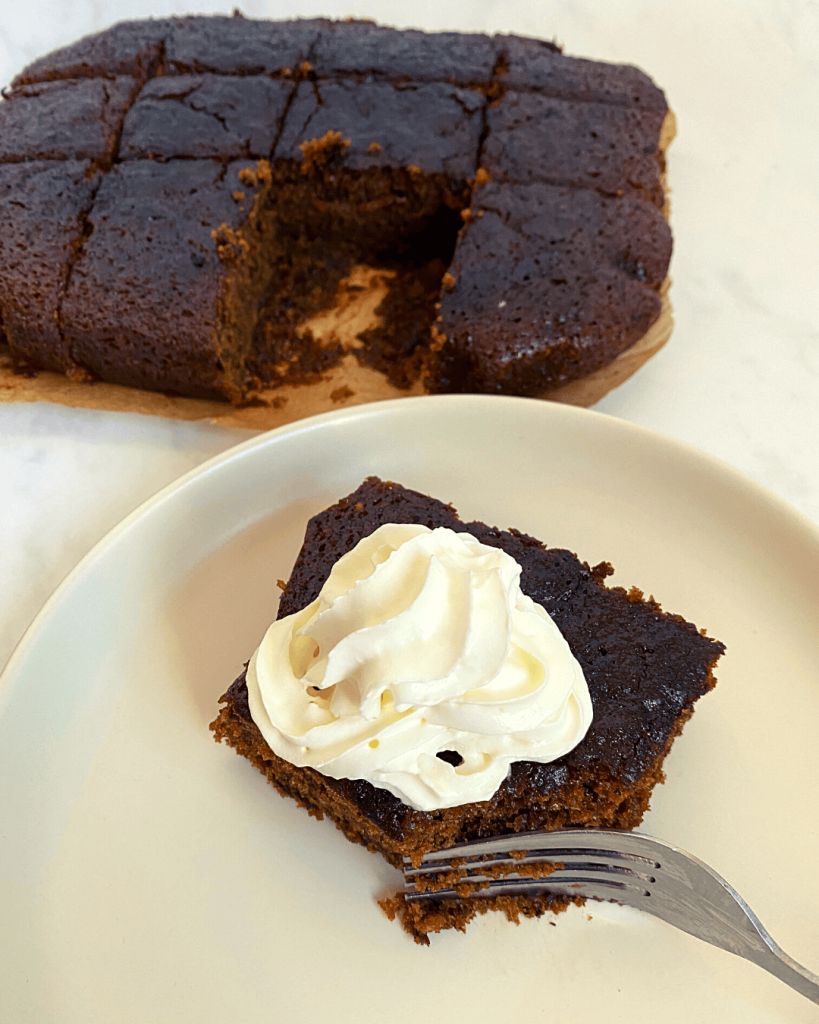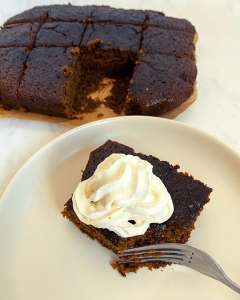 A note about icing for Gingerbread cake:
I served mine with classic whipped cream (fun fact: a can of it is called squirty cream here in the UK), but I've also read online that a cream cheese icing (similar to a carrot cake one) can goes well with gingerbread cake.
Gingerbread cake + wine pairing: What wines go with gingerbread cake? 
With most cakes you went to choose a sweet/dessert wine. For this gingerbread cake in particular, I would go for a Sauternes (a sweet wine from Bordeaux) or something like this Heaven on Earth Sweet Muscat from Stellar Organics. If you like sparkling wines, a Moscato D'Asti would be a good choice too!
This time I had a bottle of this Château Dudon Sauternes from Vintage Roots here in the UK. The deep honey flavours went super nicely with the rich sweetness of this gingerbread cake and I also love how this  Sauternes is organic … just divine!
Here's a photo of the wine and cake together 🙂 Cheers!