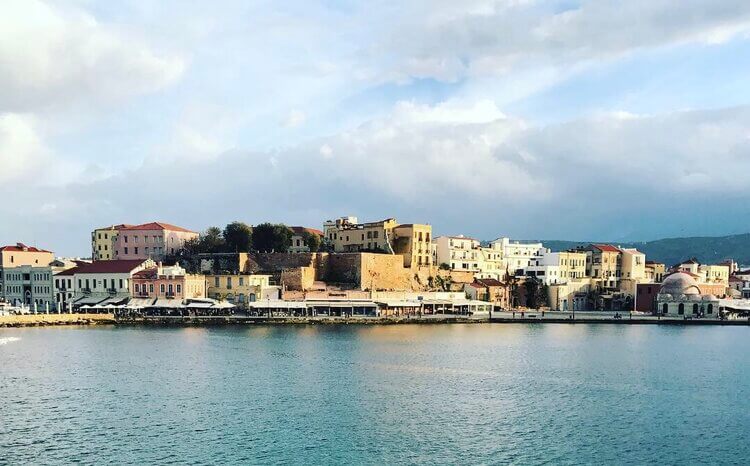 Not too long ago I spent a November on Crete. If I were to pick three words to this Greek island, they'd be rustic, off-the-beaten-path (although a lot of tourists head there in summer), and charming. Think rocky cliffs and scraggly mountain goats along with beautiful Mediterranean views, lots of sunshine, fancy coffees (frappés are so popular here), and laid-back, hospitable locals. That's Crete, to me.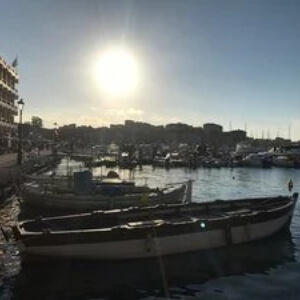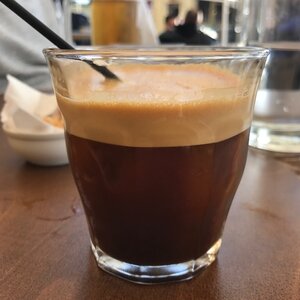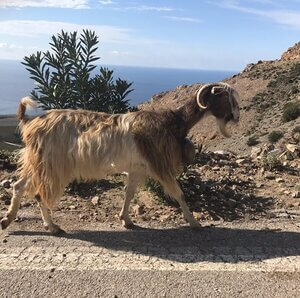 Before I headed there, a Parisian food expert I interviewed for an upcoming podcast episode told me that Cretan cuisine is famous within Greece. I was delighted to discover I'd chosen to go to one of Greece's culinary hotspots.
To me, Cretan cuisine is straightforward and delicious. It's much more than pita bread, moussaka, and souvlaki; and richer than olives or feta cheese. I spent a month in Chania, a calm town (in November at least) with a charming and colourful old Venetian harbour. This historically diverse town is definitely worth visiting — and living in if you're looking to spend a longer amount of time on Crete. It was the perfect place to be a digital nomad for a month.
Since I spent most of my time on Crete in Chania, this post will mostly be about where and what to eat there. I'm sure there are numerous other amazing restaurants and "tavernas" — small restaurants serving up local cuisine — all over the island. There really is a lot to explore on Crete.
But back to the cuisine. Even if you spend a day or two in Chania, I would highly recommend going to Pallos Cafe Bar  right on the corner of the harbour. I noticed how popular this place was — with locals and tourists alike — during my first few days in the town. There's with a wonderful view of the lighthouse-resembling minaret in the centre of the harbour and plenty of patio chairs for people watching and getting some sun. Great for an afternoon coffee (their warm beverage list is awesome — I went a chocolate-black pepper espresso), cocktail, or beverage of your choice, or for any meal. I had the breakfast one morning and I couldn't believe how much food the server brought to the table. Overall, I do recommend this spot for its amazing harbour view, the hip ambience, and the delicious food and drink options.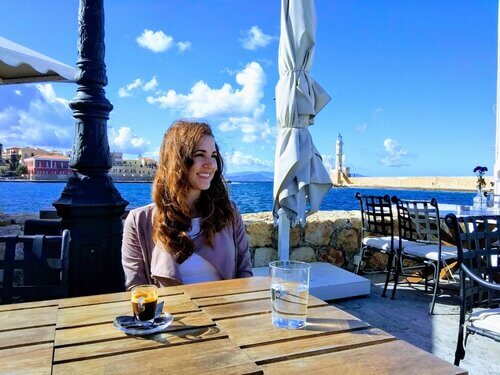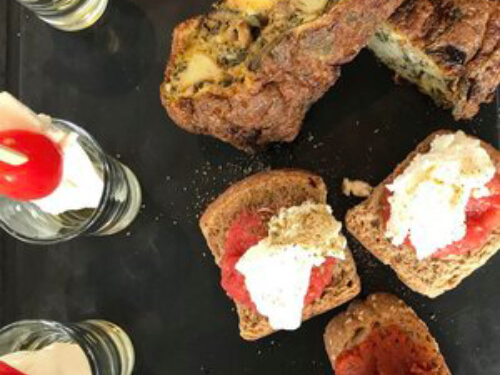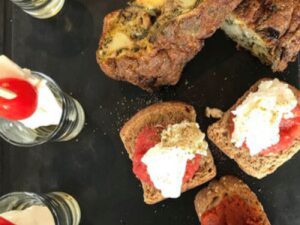 Another very cool place I discovered was Tamam. Our Airbnb host recommended it to us, and I also read about it in the Lonely Planet guide left in the apartment. It also has the most Google reviews for restaurants in the town. The restaurant's building dates back to a public bath first built by the Venetians in the 1400s, which was later used as a hamam (a Turkish bath) by the Ottomans. The restaurant is divided into two parts divided by a very narrow street; sit on the bath side if you can (you'll see old concrete walls and tables on raised concrete flooring inside). I found their menu humble, yet enticing and priced well. As a pasta lover, I went for the eggplant lasagna and my boyfriend had the sea bass. The on-the-house chocolate truffles for dessert were divine. It's definitely worth eating here, not only for the food but the location as well. My boyfriend summarize it well: "The fact that you're eating in a bath is pretty cool."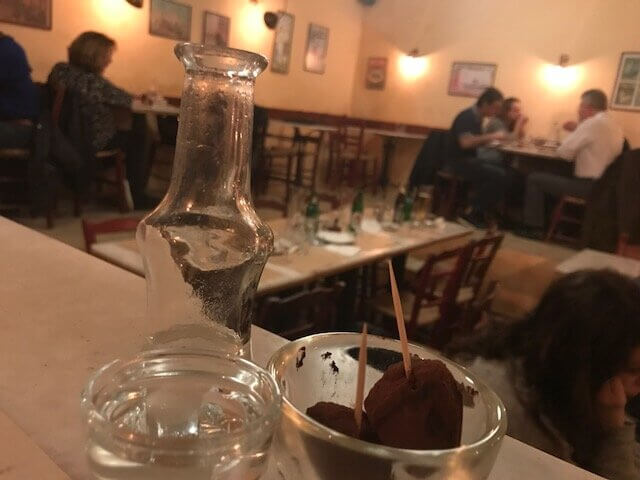 This was actually dessert, it came last! Raki on the house, of course, and some amazing chocolate truffles.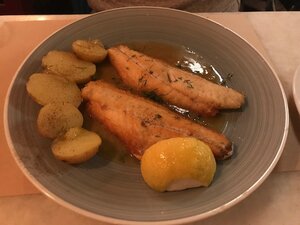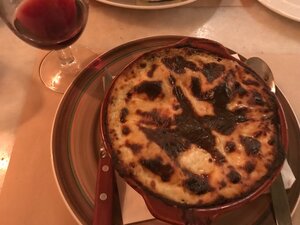 This was a vegetarian lasagna!
If you happen to rent a car or know someone with a set of wheels, another spot I'd go to again is the traditional taverna Dounias. I wouldn't have discovered this food gem had it not been for our Airbnb hosts once again, as its sort of tucked away high up into the mountains about 45 minutes (driving) from Crete. Tip: If you go, watch out for the mountain goats lying on or crossing the road. Listed as an "eclectic restaurant" in GoogleMaps, this restaurant was homestyle Cretan food at its finest. We went for the chestnut-potato stew with cinnamon and cloves and a creamy pumpkin potato dish. As we were on Crete, we also tried the oven-roasted (you'll see the pots on the open fire as you go in the door) lamb with potatoes. A glass of local rose wine was 1.50 € here. This spot is recommended for its no-fuss yummy meals cooked in a very traditional way.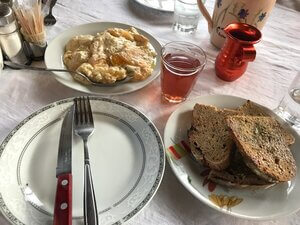 A tasty creamy pumpkin potato dish and a glass of Cretan wine …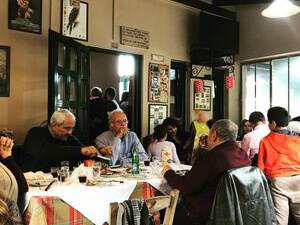 This restaurant felt like you're eating with a giant family …
Chania and Crete is filled with plenty of other great restaurants, bakeries, and cafes. If you're on a budget, pick up a falafel, gyro, or a spinach-cheese (or just cheese) pie from a bakery. We cooked a lot too and shopped at a farmers' market near our apartment, where we picked up very affordable fresh produce — like fresh oranges and some kind of "horta" (wild greens; apparently Cretan women once picked up to 70 wild greens from the mountains). We also found plenty of delicious olives and sheep or goat milk cheese.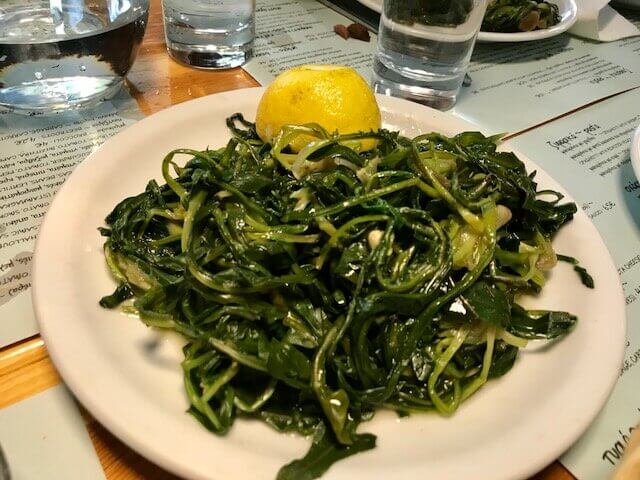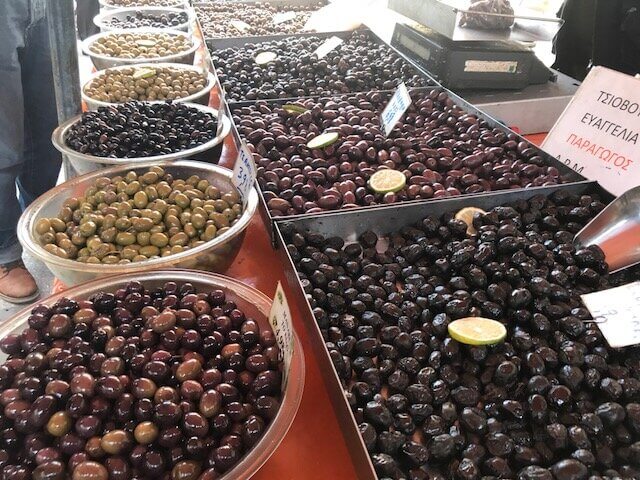 So many olives to pick from!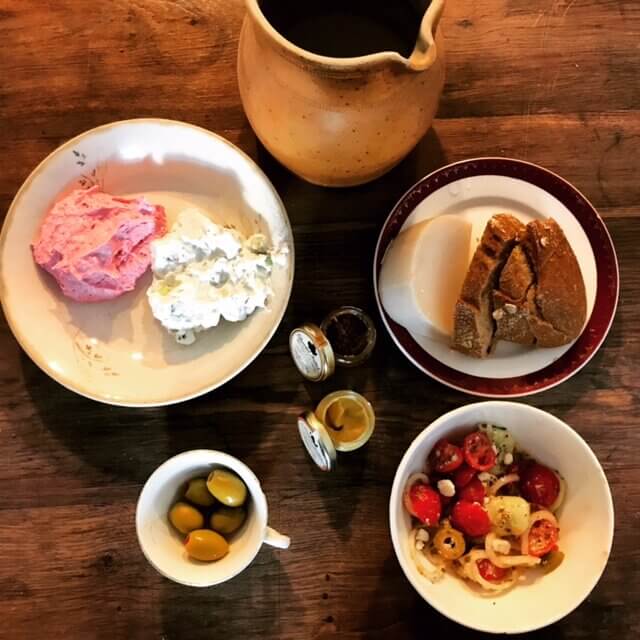 This was heavenly … supermarket finds!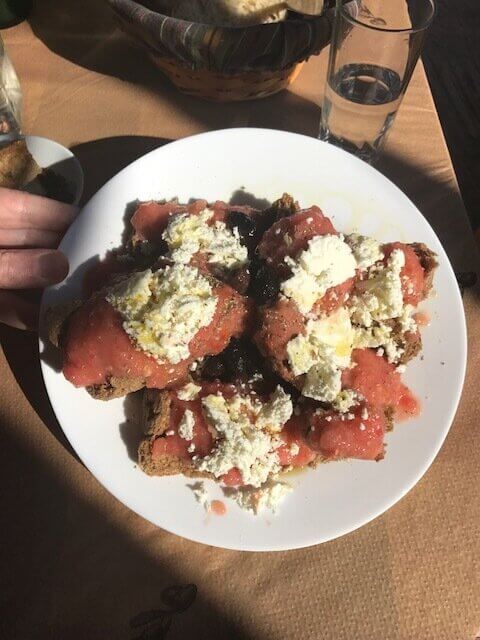 Dakos … they're wholegrain toasts with olive oil, feta, tomatoes, etc.
At the supermarket, we bought Greek items like taramasalata and tatzkiki to have with fresh bread (alongside Greek salad, for course). We also baked frozen spanakopita, a traditional Greek pastry made with spinach and feta cheese, as well as tiropita, a similar thing with just cheese. If you're looking for other dishes, try things like "dakos" or Cretan wild greens (horta) with lemon and olive oil. Overall, dining and eating on Crete is quite affordable.
And last, but not least: You'll always leave a restaurant full — and maybe even a little tipsy — because of "raki", a spirit that's almost always brought to the table on-the-house alongside a sweet after a meal. Complimentary appetizers are also typical. To me, these culinary traditions are absolute testaments to the genuine hospitality of this picturesque and slightly rugged island.
Happy dining & eating,